This just in, a mysterious Ebay seller (going under the pseudonym "Jack Mord") has put up for sale a Civil War era photograph of Nicolas Cage….  for $1 million USD. This has caused a firestorm of controversy fueled by the long-rumored assertion that Cage is in fact a vampire. I've been hearing that for years, so its nice to finally see some evidence to support it.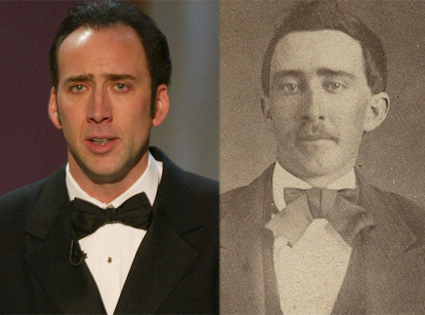 Records pulled from the New York Daily News show that the photo was taken in the 1860's at Johnson's Island Prison Camp in Ohio where Cage was being held as a captured confederate soldier.  The eeriest part of the 147 year old photograph is that the Oscar winning actor hasn't aged a day since.
Jack Mord, who is selling the photo on eBay, said:
"Personally, I believe it's him and that he is some sort of walking undead vampire, et cetera, who quickens/reinvents himself once every 75 years or so. 150 years from now, he might be a politician, the leader of a cult or a talk show host.
"My theory is that he allows himself to age to a certain point, maybe 70, 80 or so, then the actor 'Nicolas Cage' will 'die'…but in reality, the undead vampire 'Nicolas Cage' will have rejuvenated himself and appeared in some other part of the world, young again, and ready to start all over."
Interestingly enough, Cage himself has NOT denied being a vampire. He also hasn't confirmed it, but that's a given.
As you may know, I'm a long standing advocate of the Richard Chanfray/ Comte de Saint-Germain immortality case (he reportedly drank the elixer of immortality in France in the 1740's and faked his suicide in San Tropez in the early 80's), so this is a breath of fresh air as well as a fascinating case.
If you head straight to Ebay to see (or bid on) the picture, don't bother its been removed. Rumor has it that Cage bought the image himself, most likely to cover his tracks and quietly put an end to the controversy.  The smart money is on this potentially being the real deal.
-Mac
Share on Facebook
Related posts: